Can you introduce yourself to our readers?
Hello, my name is Ana. I'm from Madrid (Spain) but currently living in Berlin since almost four years. I have been DJing for more than 15 years and producing for around 6 years. For me, electronic music and especially techno is a passion but most of all: "a way of life."
What is your musical background on both electronics and non electronics?
Well, I think since I was very young, I was pretty linked to music and rhythm in every way. I danced flamenco for more than 10 years and I think this background gave me the sense of rhythm and helped me to develop my musical sensitivity in an artistic way and also in a "mathematic" way, because music is also mathematics.
In school, I learned to play guitar and at home, we had a piano because my sister was playing during many years, so I feel I was surrounded with a lot of inspiration and tools to get connected to the music.
As a teenager I was attracted to electronic music since the very first moment and everything started, of course, on the dance floor. Like most of the Djs , I think, I slowly got more involved in it and I started to learn how to mix my first vinyls.
The beginning was with techno, I listened to Plastikman for the first time at the end of the 90´s and since this moment there was "a before and after". But through the years, I´ve been attracted to all kinds of styles: electro, dub, dub step, techno…
You're originally from Spain but you're now based in crazy Berlin. I guess the main motivation to move there was music, but what has attracted you the most in this city?
Yes, music was definitely the main reason to move here to Berlin. When you love techno and electronic music in an underground way, there are not too many places to go where you can find a real scene, which is kind of sad but true. And for sure here, there is a great inspiration here.
You're one of the Tresor Club residents right? When and what was your feeling the first time you've played there?
Yes, I play regularly at Tresor. First time was actually three years ago. I was very lucky to have the opportunity to play there for the first time. I remember I felt so happy when I was requested to play. I was very excited at the beginning, but after some tracks I remember I said to myself " Hey, you are playing at Tresor, start to enjoy and rock it".
You also have hosted some of the famous New faces Wednesday nights at Tresor. The concept is focused on bringing new and hidden talents to the surface. Is the atmosphere on those nights different from the regular week end nights? How do you choose your "New faces"?
I host the party "New Faces" at Tresor every two months aprox. This party takes place on wednesdays but the atmosphere, even though is not during the weekend, is great.
Also, usually it's very packed as well, so the feeling for me comparing to other nights is the same.
Normally I choose young and new talents under a good techno attitude, with all that this means. There is a large group of youngtechnotalents in Berlin, which are already making very good techno and deserve this kind of opportunity. Also, sometimes I choose artists which are in the electronic "business" longer time ago but didn´t have the chance to show their talent yet in a club like Tresor.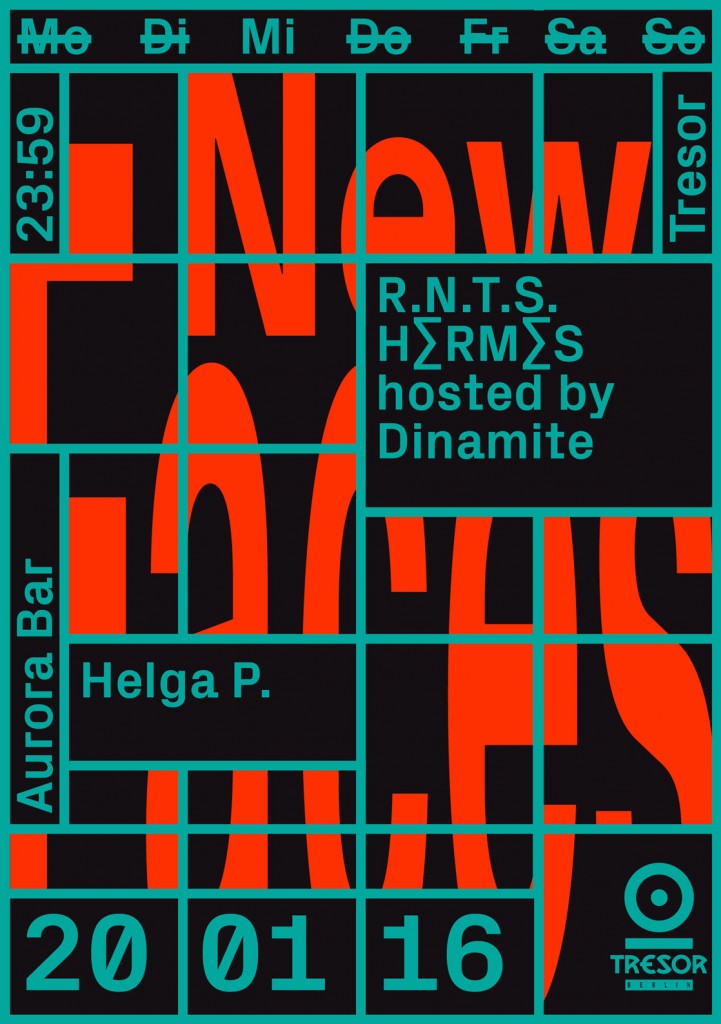 So, how the party name very good says: "its new faces". Tresor is a great club, but I guess there are other spots where you enjoy partying in Berlin… Any hints?
Digging through your productions, we found a nice balance between sharp rhythm patterns and smartly shaped soundscapes and pads. We are curious to know what kind of setup do you use for your tracks?
Ableton( Vst and especially Reaktor) + Tetra (Dave Smith) and soon getting Analog Rhythm (Elektron).
This kind of sound fits typically with the spirit of labels such as Planet Rhythm. It's not very surprising to see your tracks on their catalog. How was the collaboration with this label?
I like the label very much and I thought these tracks could fit, so I sent the demos and the label liked them. I was very pleased to join the label.
Speaking about the release itself, one track in particular has attracted our attention. Forma has everything of a great tune in terms of originality and structure. This kick pattern is amazing, and so is this work on the echoes. Where did you get your inspiration from for this track?
You never know when the inspiration comes. For sure I like a lot dark ambient and electro but I cannot say this is something similar. I guess this whole EP was made in a very special and deep moment in my life and all the pieces of the puzzle were fitting alone. In the case of "Forma" I wanted to make a broken beat track, but using the same parameters I use in most of my tracks: dark and deep atmospheres, keeping the groove and flow and trying to get somewhere.
On 2014, you took part of a very interesting project, doing electronic remixes for Piano tracks by French pianist Sylvain Gourlay. We always had in mind that classical instrumental music and electronic music have a lot in common… Your version is broken beats oriented and the result is great. How did this collaboration happen?
This collaboration came through the French – Spanish label Catalytic with which I have been linked for a long time. The label 13bis wanted to make these remixes with electronic artists and contacted Catalytic. I have to say I loved the idea from the very first moment, bringing a piano track to electronics was such an amazing challenge for me and even more coming from an amazing pianist like Sylvain Gourlay.
My first idea was to bring the piano track more to trip hop or Uk bass, especially when I heard the original track "Melancholia" and I chose this one to remix it right away.
Are you also influenced by this kind of UK bass music also?
Yes, for sure! Uk bass, trip hop, dub, dub step, reggae, etc… There are no limits for the good music…
What other labels do you feel fitting the most to your sound at the moment?
This is the same question I make for myself when I finish a track. But at the moment besides Affin and Planet Rhythm I would say labels that I prefer like a Dj or music selector like: Falling Ethics, Transhuman Label, Detroit Underground, Sonic Groove, Hypnus Records, Field Records, Weekend Circuit, Tresor Rec, Gravite, Manzel…
You're part of Female pressure structure which focus on promoting female artists in the electronic world. Do you feel that female artists in the techno scene are getting more and more the visibility they deserve?
Well, I played in the last female pressure party in Tresor and I must say it was a great experience because all the female artists were great but I don't think this is about genre, it is rather about talent so I guess if you work hard and do things in the right way, you deserve your opportunity, no matter what genre you are.
​Do you still have connexions with the Spanish Techno scene ?
Of course, I come from Spain and is there where I started and where I have a lot of DJs and producers friends. Everything there is a bit different since I left almost four years ago, but still connected, especially with the artists (a lot of them living here in Berlin as well).
It looks like you're also a vinyl addict! Do you prefer buying your waxes online or going to the record shop? What is your favorite record shop in Berlin?
Both, online and going to the record shop. Hardwax & Decks.de
How did you built the mix for Paradox?
Normally when I record a podcast I try to do something more mental and deep. In my case, I like to listen to podcasts in the car so I try to do something to travel a bit… 🙂
What kind of non electronic music do you listen to usually?
I listen all kind of music. I love old music from the 20´s – 30´s (Marlene Dietrich, Edith Piaf…), New Wafe, Post Punk, Dub…. I especially can spend hours listening to Rhythm & Sound or Pulshar… Classical music, old school flamenco even…
What artists/labels held your attention in 2015?
Well, in these days, there is so much music offer that you don't have enough time to assimilate it, so talking about "creators" and artists that I admire, I would say:
Stanislav Tolkachev, Andrea Parker, Die Black Garde, Env3, P.E.A.R.L, The Transhumans, D_func, Traversable Wormhole, Regis, Vatican Shadow…
Also the new album of Housemeister in Detroit Underground which will be out this month, ambient, dark, electro and electronic beats full of soul and magic, highly recommended!
There is also a remix for Alexander Kowalski and Soren Aalbergon the Girafe Sauvage Label.
I also collaborated with the artist Env3, and we've made a track together for a compilation in the label AYCB along with a lot of techno artists, which will be out in february.
And at the moment I'm working in the studio for different EP´s, one of them for a label from Ukraine which I've been requested and I'm very pleased about that.
The rest….we will see… 🙂