Mental Resonance nous dresse un portrait de la scène Techno argentine à travers cette interview. Inspirés par des labels comme Hypnus, Semantica ou Northern Electronics, Mental et ses acolytes  (Alderaan, Zedje…) sont en train de façonner la scène argentine qui compte de plus en plus de collectifs tout aussi dévoués les uns que les autres. Guido espère que grâce à l'effervescence des concepts événementiels, le public argentin donnera enfin aux artistes locaux le crédit qu'ils méritent.
Mental resonance… Very scientifically inspired pseudonym! How did you come with this one?
I really liked how it sounded, looked for something that represents my idea of techno music.
I have always been attracted by the most mental side of it, obviously without leaving the dance floor aspect.
How old were you when you started listening to electronic music?
I was about 14 years old. My cousins were older and were listening to various things related to electronic music, then I started digging on my own and discovered techno music and other genres.
Can you tell us about the setup you are using for your tracks?
Basically I use Ableton, several plugins and VSTs,  but I am planning to get analog machines in the future to extend my knowledge in that direction. At the moment I feel very comfortable working with this setup.
Is there a particular process that you use for producing a track?
Whenever I start a new project, I have maybe a scheme already in mind and I create a track in parts. I begin with some drums and continue by adding the main synth or some atmospheres, depending on the idea I want to express at that time.
Do you only DJ or do you also perform live?
I usually introduce myself as a DJ but I also performed live.
Can you describe your first live act or DJ experience?
The first experience as a DJ, was pretty disappointing as I had few people dancing and maybe I did not handle the dance floor like I should. But it served as an experience and I like to learn from each act. My first live performance was really good though, it was a party in a house full of people and I had a great connection with the audience, a very dense energy.
As I was looking for uprising artists to present in our website, many of them where actually argentinian, Alderaan, Matt Saderlan, Zedje… Are you guys involved in collective projects?
Yes those guys are my closest friends, now with Alderaan we are making a new collab, we have a very similar sound and are influences by the same artists.
Few years back, the argentinian scene was mostly know for its very particular minimalistic sound with artists such as Seph, Jorge Savoretti, Franco Cinelli… Is that scene still alive?
Still alive but it is now focused on a more massive sound from my point of view, but I can not comment more because I am not really into this genre
Can we say that the scene in your country is definitely evolving towards a harsher Techno sound?
No doubt there is a progress of techno and there are many different crews here. The bad point about our scene is that the crowd gives more credit to international artists rather than supporting national artists, and you know there is a great potential here…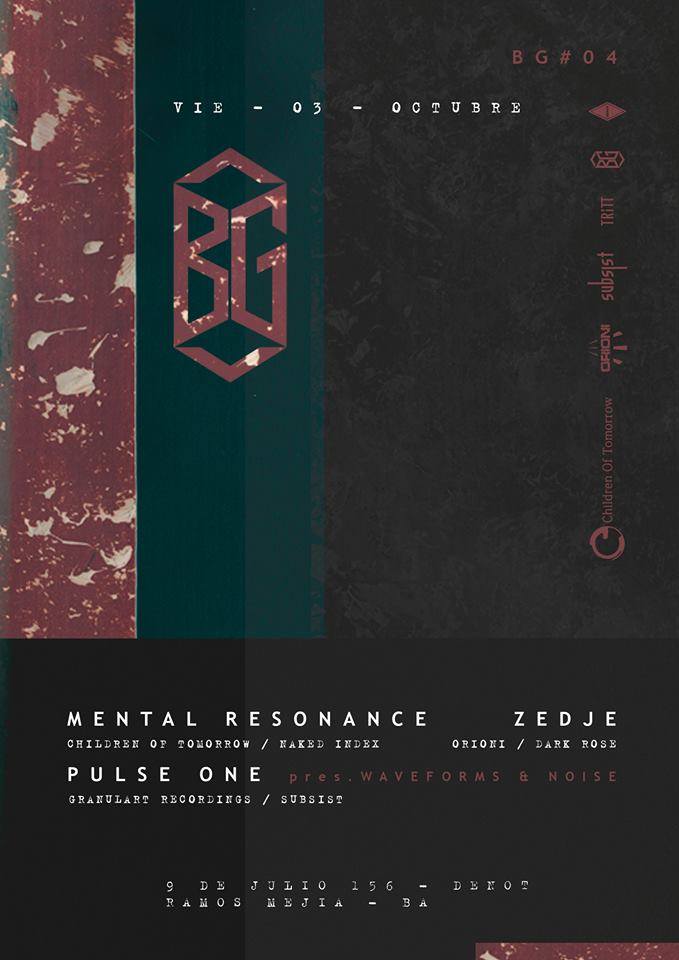 Seems you are involved in two argentinian techno collectives, Pulse and Back garden, can you tell us few words about those two?
Back Garden is created by the Pulse One, Zedje and Alderaan to make techno parties where residents are playing and we had the honor to invite artists friends from other crews.
Pulse is the alliance between Back Garden and a group of old school DJs : Juan Benedetti, Maxi Cuenca and Acid D with the same purpose.
Is there already a pure Techno crowd in Argentina or are you still getting people more familiar to that sound?
I think we have a lot of potential : there are different artists in our techno scene and many different concepts. Currently I think many argentinian djs are well-known and supported by great artists overseas.
Do you have any connection with the techno scene in France? What do you think about it?
I do not have a connection, but I have much respect for various artists in France, there is a good potential and high quality music there, the guys of CONSTRUCT RE-FORM does an excellent job. You have a very solid scene.
Which artists or labels drew your attention on 2014?
The crew of Hypnus is doing a good job as do the people of Informa Records, Semantica or Northern Electronics etc.
Artists like Korridor, Alderaan, Acronym, Ben Gibson, Luigi Tozzi, Ness & Astronomical Telegram to name a few.
What can we expect from your projects in the next months?
I hope to continue progressing and expanding my knowledge, and I have several jobs to be released on important labels in the near future, but I can't say more at the moment…