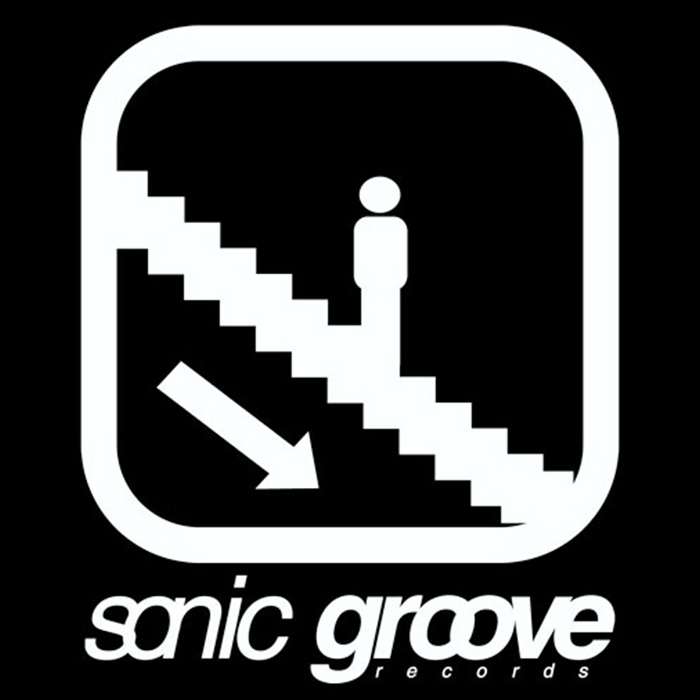 Sonic Groove is one of this label who has never stopped being prolific, even after nearly 30 years of existence. Before it became a record label, Adam, his brother, Frank  (aka Frankie Bones) and Heather Heart founded the first techno music record shop in NYC named "Groove Records" in 1990. Their early Brooklyn "STORMraves" parties established them as pioneers of the U.S. rave culture. Few years later, Adam decided to create a label, adding the word "sonic" to the name. With 124 releases since it started in 1995,  Adam's label has crossed different techno eras, first with US artists who are mainly friends and family as Frankie Bones.
​Right after the record store closed in 2004, Adam X decided to relocate the label in Berlin, and explore new forms of raw techno, as a visionary, and particularly in the EBM and industrial genre.
It's interesting to mention that Dave Clarke has put out his first release on Sonic Groove, using the alias "Directional Force", as a reissue from early R&S, which has a more tech house esthetic than the direction Adam took after that, and discover some artists like Polaris with the release "the encryption factor" in 1996 which is more experimental and noisy. Sonic Groove is a family affair, with many releases of Bones and of course Adam X who used several aliases (Traversable Wormhole, ADM-71) to explore different genres of techno, sometimes mental and personal, sometimes industrial and groovy.
Artists who are present in the catalogue are mostly friends whom Adam knows their music taste, so he can count on them to convey, and it works, definitely.
​We sat down with label owner Adam X to know more about his successful imprint:
You have started 28 years ago. What was the reason for starting the label and where​ ​does​ ​the​ ​label​ ​name​ ​come​ ​from​ ​originally?
​In April 1990 my brother Frankie Bones opened a record store in Brooklyn NYC called "Groove Records" I soon started working there and eventually became a co-owner into the shop. A few months into the opening my brother started a label called "Groove Records' ' which had three releases and then in 1991 he started "Brooklyn Groove Productions" which you can find my very first solo 12" "Listen" on. In 1995 we moved from Brooklyn to Manhattan, adding another partner involved into the business, American rave legend dj , Heather Heart. With the move I decided the word "Groove" was too generic and added "Sonic" to the "Groove" From there a new era in NYC Techno was born. Soon after the new shop had opened I decided to create a record label of the same name. The label though in the first few years had some opinion input from Heather on artists tracks, it's been my own doing since it's inception and the name is owned exclusively by me now.
In order to protect the Sonic Groove sound signature, do you have to think carefully about which​ ​other​ ​label​ ​you​ ​release​ ​your​ ​own​ ​material​ ​on?
I'm very picky on who I work with when releasing music as in the end I can just release my music on my own. I released music in the past with labels that were running very hot in the scene but whose owners I had very little connection to. Sometimes I wound up to be not so happy in the situation with some labels. So I put a stop to working with people I have little connection with and now only work with good friends outside my own label.
As​ ​a​ ​label​ ​manager,​ ​what​ ​were​ ​the​ ​main​ ​challenges​ ​you​ ​faced​ ​from​ ​the​ ​start​ ​?
The number one challenge is always to sell enough records / digital files so an artist is happy with my work in presenting their music to the people. This is the most important thing to me in running the label.
It is very difficult when you believe in an artist but have problems selling their music. I hate to have to tell an artist their music is not selling well especially when I feel the music is amazing. It actually kills me inside when I have to break the bad news to them. I take their music very personally as they've entrusted me with it. 
What​ ​is​ ​the​ ​most​ ​challenging​ ​thing​ ​in​ ​running​ ​a​ ​label​ ​?​ ​And​ ​the​ ​most​ ​exciting​ ​one​ ​?
The most challenging is getting your records into all the online and physical shops. I've worked with several distributors over the years and in the end I've realize that each always seem to not sell to certain physical retail shops. I find it very frustrating to walk into a shop somewhere in my travels and see them carry like minded labels but have nothing from my label in stock. 
So I also have to put my own work into the distribution side of selling records, reaching out to some physical shops directly to make sure they can get my releases. 
I love receiving the finished product from the pressing pant, holding the record, listening to it on the turntable. It's the final completion of a piece of art.
I also love hosting label nights and booking the artists on the label to play on gigs with This is always a very exciting feeling for me.
Do you listen to all the demos that you receive? Do you also take into account the person​ ​and​ ​their​ ​ambitions​ ​as​ ​a​ ​producer?
No, I don't listen to demos from artists I don't have a personal connection with. As I mentioned earlier, Sonic Groove is a family affair, those that release on the label are all friends of mine.
Do​ ​you​ ​ever​ ​proactively​ ​search​ ​for​ ​artists​ ​to​ ​release​ ​on​ ​the​ ​label?
As mentioned before releases on the label find there way through my friendships with the artists I have already. I'd say the only times I proactively reach out to sign a release is when it comes to a few classic re-issues on the label such as the recent Beta Evers single "Eruption EP". With Beta we only met once briefly 10 years prior so I guess you can say I was proactive in tracking her down to license the release.
How do you handle the difficult balance between artistic intuition and answering to​ ​the​ ​public​ ​demand​ ​in​ ​the​ ​label​ ​management?
I'm very picky as a label owner and will not just put a release out to fill a gap in the release schedule. If it's music I'm not 100% feeling then it won't be released on my label. I don't care if the song has a potential to be a huge hit. If I'm not feeling it slightly then it's a no go for me. 
I don't tailor the releases on the label to public demand, I simply release what I really like. I do have a modus operandi for the label and that is there should be at least one super strong peaktime dance floor song on an individual release. I prefer releasing 4 cut EP's that have a song or two leaning to a more deeper experimental side. I like to show an artist's diverse creativity.
Is​ ​releasing​ ​material​ ​more​ ​frequently​ ​part​ ​of​ ​the​ ​future​ ​goals?
The label is a very big part of my soul. There are no plans to slow down output or stop the label. I'm super happy with where things are at the moment.
Our selection of the "not to miss" releases
on the label :
Frankie Bones – Ghetto Technics 8  [GTS008]
The Ghettos Technics series from Frankie Bones, released on his label and distributed by Groove Records is the essence of the US techno and hard house scene.
Orphx – Outcast  [SG1359]
It would be a nonsense if the Canadian duo Orphx doesn't appear on Sonic Groove. As an industrial music Pioneer, it's not their first try on the label before Boundary Conditions.
Diagenetic Origin – Cycles [SG1465]
The Swedish producer Diagenetic Origin signs his 3rd release on SG, diving us into an explosion of metallic and raw sounds. 
Adam X – Irreformable [SGLPD01]
Six years after "State Of Limbo", the album Irreformable came out at a time when the techno to industrial influence that made Adam X become a pioneer is fashionable. A precise album, from a year's work described as follows : "A refined industrial-sounding album that broods with dark energy that twists and turns." The track title carries this message, thanks to the broken rhythmic intermixed with an electric atmosphere surpassing the extreme heaviness of the bass.