One of today's Japanese Techno main men answered our paradoxical questions in this interesting interview. He talks about how he went from straight forward techno into more brainy stuff, the Local Sound Network platform, and what's in the pipeline for his projects.
Hi Ryuji, we are very pleased to host you in our project for this special series that celebrates our first birthday.
Hello, thanks a lot for this great opportunity.  It's nice to be a part of the special series.
Let's start speaking about your story with electronics. How did your passion to this genre evolve across your life?
Well, I used to live in the US back in the days and I got a huge impact as soon as I started to go out to underground local techno parties down there. I was already listening to classic Plus8 and all other stuff you could think of, though.
While going through your discography, we've noticed that many of your track names are in german…
das ist richtig. I'm a multi-linguist and just thought it might be fun to give track names in several languages. I guess there're English, Japanese, German and Spanish so far. I might try even more, let's see.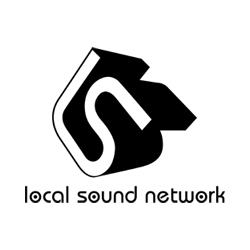 You're involved in the Hue Helix label, an imprint that we respect a lot for the spirit behind it. But you're also the founder of Local Sound Network (LSN), built in 2011. Were you planning to build up your own imprint since a long time?
Yes, I dreamed of running my own label since I got in contact with techno. I wanted a platform where I can represent whatever I think is cool or whatever. I started LSN first and a few years later Hue Helix was born.
We can read on your label (LSN) description: "from local to global", this concept means a lot for us. What do people have to understand about this sentence?
Not much, but one thing: Global never exists without local.
Your first releases were more focused on straight forward techno, but your sound had slowly evolved into more complex and almost industrial-influenced side of techno. You seem to look more and more for brainy sound structures…
Merci, I guess it's just a result of me doing whatever I feel like at every moment. I produce whatever I can play in my set. I play from experimental to peak time techno set these days, so it makes more sense to keep it this way. I feel more freedom nowadays, maybe because I've been into a lot of music styles since the beginning.
Your release on LSN entitled "Invisible Armor" (LSN003) has particularly hooked our attention. It really represent this balanced ambivalence that we like in Paradox, with the remixes being more deep and drony, and original tracks exploring the more brutal and raw side of techno. Is this the artistic message behind this release, a kind of balance between those two sides of Techno?
That's true. I care about balance. Whether it's well balanced or messed-up balanced, it should be considered by my feelings. The most important question is whether it's interesting or not. That's the bottom line.
On the other hand, your very last EP on LSN, "Black Tears", is almost totally dedicated to the rawest and most powerful sonorities, yet with amazing mental-disturbing elements. Is the powerful side of your music soul taking the priority over the deepest one at the moment?
It's also as the result of me being straight with what I want to do at every second. I do whatever I like, whenever possible. This one ended up harder but the next one might be 0 bpm with no sound, monster ambient stuff.
Last year you've released an amazing album on LSN. We got impressed by the variety of influences in this piece of music. How did you build up the album?
I wanted to do something strange, weird and new in any styles, then, I came up with the album. I messed up with noise and sound and compiled those outputs for the album under one hidden concept. It's got intro and outro, to the core of the album. I'd say, it's a little journey throughout the entire album.  Hopefully, a few listens will give you some idea behind.
By the way, we've especially liked the track "Retributive justice", nice track name also…
Thanks!
After  German producer Blood & Tears, the second foreign artist who released a full EP on LSN is Italian Ken Karter. For us, he's one of the most interesting guys when it comes to industrial-influenced techno. How did this collaboration start?
Ken Karter… I really love his sound and unique approach to techno. I was a big fan of his label, Kript Records, and I asked him and that was what happened.
Many of your Japanese techno partners, including you, seem to appreciate off-beat rhythm patterns and industrial-influenced soundscapes. Is this kind of techno popular in the Japanese underground techno scene?
Not sure, but I'd say there's everything, all kinds of music in Japan. People have so many choice, maybe too many. Well, yes, those who are around me like off-beat rhythm patterns, it's hard to deny. Maybe it's just coincident, not everything is theoretical.
Do you have any connexions with the French Techno scene and what do you think of its current shape ?
Yes, a lot of my friends played at Rex Club Paris and I heard so many great stories. Now, it seems to me that there're some new cool techno movements including Concrete etc..  There're some friends from France and they're all cool people, with positive and strong mind towards techno. I hope to play there someday.
What kind of non  electronic music do you listen to usually?
I like to listen to experimental, ambient and ethnic tribal stuff. My favorite tune these days is Merry X'mas Mr. Lawrence' by Ryuichi Sakamoto. This one got such a great atmosphere with perfect aspects. It's a beautiful track but also really powerful.
Is there anything that you find paradoxical in the techno world?
I'd say everything in the world is paradoxical. Imagine when you take paradox paradoxical. I think that's what it's like in the world of techno as well. Everything has multiple dimensions and aspects, so it's fun to live in this paradoxical world.
You're planning a European tour in the near future. Is it the first time you'll tour in Europe and how are you feeling about this experience?
No, I've played at Awakenings in 2007 and a few gigs in Holland in 2009. I really enjoy playing anywhere in the world. It's just beyond description but great to meet new people and share the special moment via sound.
What can we expect from you and LSN in the near future?
I've just released my solo EP as a digital series of LSN, Ryuji Takeuchi 'Black Tears EP' (LSNDS 012) on Nov 9th and another album soon to follow hopefully. I've been working on it for the last 6 months or so, let's see if it sees the light anytime soon. Also, there're more than a few releases coming out on other labels, including a solo EP on 12 inch on HueHelix sometime early next year.