Petite session de Q&R pour en savoir plus sur l'auteur du huitième opus de nos podcasts paradoxaux.
Il nous y expose, entre autres, son parcours musical qui l'a mené du conservatoire à la MAO, son nouveau concept de soirées sans concession à Amsterdam, et ses influences qui vont de la Drone, à Kraftwerk en passant par les sonorités techno les plus dures…
What is your musical background on both electronics and non electronics ?
I went to music school when I was very young. First music theory lessons and after that piano/keyboard. I got a 2nd degree in keyboard. Not that I do anything with it but I can also play the flute.
What brought you to electronics ?
I got inspired by electronics at a young age by my keyboard lessons teacher. She introduced me to a cd series called "Synthesizer Greatest" with artists like Kraftwerk. There my love for synth's and electronic music started. A few years later I bumped into Richie Hawtin's Plastikman project (I think it was 1992) and from that moment I knew I wanted to do things with electronic dance music.
You started a party concept called TechNORm in the south of Holland back in 2006. Can you tell us how this project took place and how has it evolved ?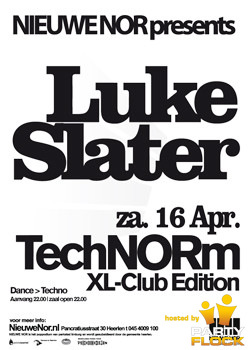 At that time (2006) I was so inspired and driven by techno but there were little to no techno events in the deep south of the Netherlands. With the arrival of the cultural venue "NIEUWE NOR" to Heerlen the opportunity opened for me to organize techno events in a perfect setting. TechNORm (later on Konstrukt) grew to be an important part/foundation of the techno scene in the south of the Netherlands. Starting with local and national bookings to big international headliners.
What kind of music where you playing back then ?
In 2006? 140 bpm heavy techno 🙂
What drove you into the producing side of Techno ?
Thanks to my piano/keyboard lessons I was inspired to make music at a young age. I've been producing music with computers/software for a very long time. I started with a program called Fastracker and Screamtracker. These were integrated multi-track step sequencer and samplers as a software application (this was about 1995). I was creating all sorts of music. Break-core, industrial, Drum&bass.. Hard and raw stuff. Over the years I switched from Cubase to Reason and eventually Ableton. When I got more involved in techno I also started to produce it. I mostly produce with Ableton and I share a studio with some real nice hardware.
How far are you involved in the Konstrukt project, which is behind one the most edgiest line-ups in Amsterdam ?

Thank you for that compliment :). As I told earlier Konstrukt is the successor of TechNORm. During the TechNORm period, Loy Bastiaens (SHLTR) joined me and from that day we organize the events together. We felt that the TechNORm event had to make a new start with a conceptual makeover… Konstrukt was born. At first Konstrukt was organized in the NIEUWE NOR in Heerlen and later on also in Amsterdam where we both live. Nowadays Konstrukt hosts an evening in the legendary studio 80 in Amsterdam. Above that the vinyl/digital Konstrukt label is introduced a couple of weeks ago. The first release from SHLTR will come out this summer. 
One year separated your first release, Exigent EP, on Darko Esser's Wolfskuill from the second one, do you feel your sound has changed to a darker and more radical techno sound ?
Yeah you could say that it's a more darker release. Wolfskuil/Darko Esser gives me the opportunity to produce more "out of the box". The sound of Wolfskuil is broad and that's great. I really love that feeling of freedom when I produce.  It's a great label run by an even more great and inspirational individual. The latest releases from artists like Qindek, Ozka, Benny Rodrigues/Rodhad are sick and I'm honored to be a part of this.
I'm really inspired by soundscape/drone kind of tracks. They often are so intense and it's a challenge to produce. To be honest at first the Figures track was a normal 4/4 track. But when I was sculpting and tweaking with the synth/drone sound I felt that this was a way more cooler and suitable sound for a drone/ambient/soundscape track.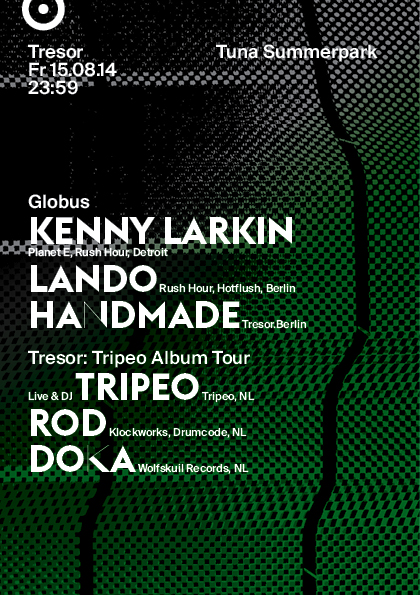 You are booked in loads of locations, what was the one where you had the best experience behind the decks ?
I find that very hard to tell tell because you can have a great/best experience in many ways (great sound system, great crowd, great hospitality etc). One of the best experiences was in Tresor Berlin. I played a 3 hour set and loved every second of it.
Do you have any connection with the french Techno scene ?  What do you think of it and its evolution ?
I haven't got a real good connection with the french techno scene but there are some really cool things coming from France. Clubs like La Machine du Moulin rouge, Rex club and especially Concrete are inspiring and influential clubs. Also great music coming out of France. I really really really (did I mentioned really?) like Antigone. It's so sick what he makes. Can't get enough of that.
Do you think that electronic music has to transmit messages or it just has to be about fun ?
I think it's more about sending out and creating a feeling. Electronic music can be so extraordinary and intense. I think it's great you can express your feelings and perception on things through producing music and even through a DJ set. You can really set the mood. And also in private, music can help to express feelings. I've produced many tracks that probably nobody but me will ever hear. It can work very therapeutic for me.
What kind of music you listen to when you wake up ?
Very hard to tell. That depends on the mood 🙂 This morning I went for a 8 km run and I listened to a bunch of tracks I downloaded from User48736353001's (Ahpex Twin) soundcloud page. Very inspiring!! 
What's your favorite non electronics artist or track ?
There's a piece of classical music called Canto Ostinato by Simeon ten Holt. I listen to this very often. It brings me rest and inspiration. 
What can we expect from you in the next months ?
There are 2 vinyl releases coming up. One on Gynoid LMTD with a remix form Mørbeck and one on Darko Esser's label Wolfskuil with remixes from NX1 and Aiken. Also a great festival season coming up. I'm playing at Awakenings Festival, VOLTT and Amsterdam Open Air to name a few. Looking forward to that!