Alongside their qualitative contribution to the series, we sat down with the french duo Wlderz to know more about their roots, their artistic shift, and their upcoming projects … Enjoy the read
Hi Cyril & Jeremy, we are delighted to host you on Paradox! Can you introduce yourselves to our readers?
 Hi! We are two thirtysomething Parisian Djs and producers of electronic music for over 15 years now. After working on our own solo projects we decided to start "The Welderz" in 2012, which has evolved into "Wlderz" in late 2016.  We are playing energetic mental and melodic Techno, with a bit of Electronica.
First, can you tell us more about your own personal background in electronics and how your collaboration has started?
 Jeremy: Since I was very young I have always been fascinated by music. I had a small synthesizer when I was a kid after being inspired by Tangerine Dream and Jean-Michel Jarre and I used to play records during family meetings. Then, during middle and high school, I used to make instrumentals for the rap group we created with a bunch of friends, using a Boss Sampler SP 202. I was listening to a lot of Funk and Hip hop during the 90's, and also bands like Daft Punk, Underworld, The Prodigy or The Chemical Brothers. My interest for House and Techno came when I was old enough to go clubbing and when I bought my first turntables.
 Cyril: When I was a teenager, I was more into Hip hop and Metal. I fell in love with techno when I was around 16 or 17, going to a club called La Bush (Belgium). Then I bought my first turntables and I started to mix Hardcore in free parties.
Jeremy: We met when we were 18 and we had developed together our musical education and mixing skills, being stuck to the Rex Club Dj booth glass during the AUTOMATIK nights, and by digging at Cyber and Techno Import record shops.
We first chose to have our own solo projects but sometimes we were booked together at the same gig; so we ended up performing improvised live acts by combining our machines and material.
In 2011 we decided to stop our solo projects to focus on a duo project first under "The Welderz" and then "Wldrz".
We got in touch with your work as "The Welderz", and then you came back 6 months ago as "WLDERZ" after a year spent in the studio. This new name means also a new artistic direction for your duo, was this decision taken for any specific reason or was it just about feelings?
 Yes indeed! We have had a notable success as The Welderz, but on the last period of time with that project, we had the feeling we weren't really enjoying what we were doing, and we felt it on our productions too, which were quite different from what we played on our Dj sets and from the emotions we wanted to transmit. So we have decided to stop all the ongoing releases and spend full time working in the studio on an another project. After discussing a lot together, and also with Antoine (Electric Rescue, boss of Skryptöm) we finally chose to release these new tracks under a new name.
You've switched from a pure techno concept influenced by acid and industrial to a great mix of Techno and Electronica. To my mind this is more an evolution than a radical change, as your footprint is still well recognizable. By the way, how did the public and the scene receive this evolution?
 Exactly, and this is why we didn't change utterly our name. We could have made this choice but for us it was more an evolution than a transformation. In fact we are focusing again on a pure Techno genre with more emotional elements and less "easy" functionality, which can be felt on the last The Welderz EPs. Yet our basic musical identity is still there and even more sincere. That atmosphere we're talking about can be felt in our very first track "Arlequin".
We've got very positive feedbacks on the first EP "Sad Industry" and when we test the upcoming tracks during our gigs, we always have great reactions from the crowd. We are looking much forward to release the next EPs and even more the album.
2017 seems quite busy for you and you've got a big project planned this year, which is an album, so, how is it going in the studio with the album?
We are working on this album for almost 2 years now. We could have released it at the start of the new project but we made the choice of releasing 2 EPs before to let time to people to assimilate this artistic change. It is also good to have enough time for new tracks and to improve others in order to make the album as good as possible. There will be an Electronica part in it; it is this side of us that we really want to make people discover.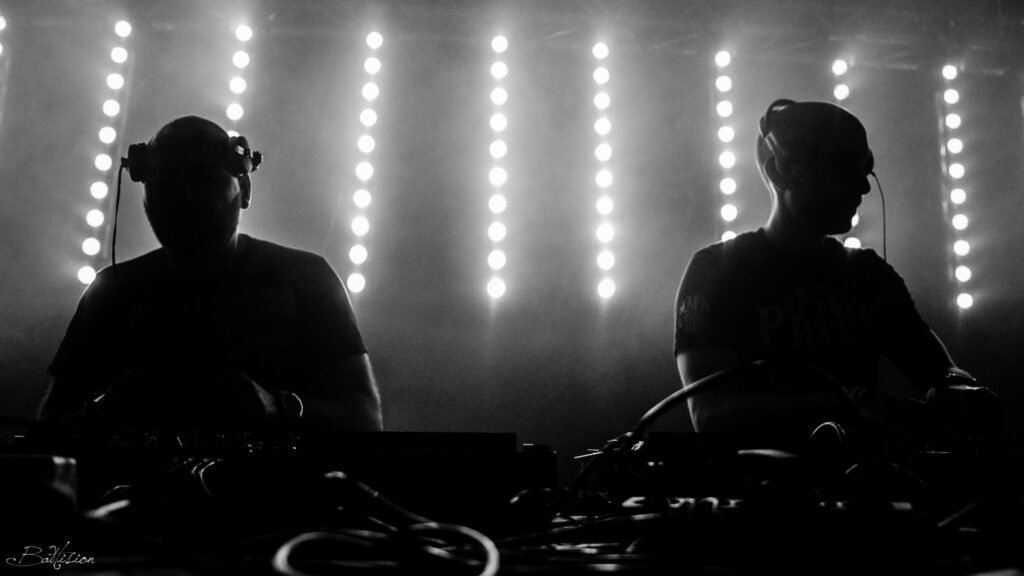 "Skryptöm is a real family and we are really happy to develop our project with them."
After the great Sad Industry EP, are there many releases planned before the album?
For now we have a second EP planned on Skryptöm, due to be out on September, then the album planned for the end of the year. We are also working on several EPs that will be released on other labels, but nothing is signed for the moment. And we are working on a new liveact that will be performing by the end of the year too.
Can you describe your production process? What kind of thing can be inspiring for you?
We don't really have a specific process. Sometimes we work together on a track from start to end in the studio, sometimes we start to produce something on our own and we finish it together. Both of us have a job besides music so unfortunately we can't see each other every day to work together. It happens also that we send each other projects and add our own contribution on it. When we produce it all about feeling actually. We are really inspired by a lot of music, and not only electronics. Both of us are really eclectic.
You made many gigs and you are currently more in a "production period". Which one of those is the best moment for you: studio production or Dj set/Live performing?
 These are two different things yet pretty complementary. Working in the studio helps us to translate emotions we have at a specific moment, to empty our mind of daily issues, but it is also a lot of work and concentration. Sets in the clubs allow us to share these emotions directly, to let loose completely, it is a time for celebration and sharing. I think we can no longer do without one or the other.
Few weeks ago came out the Skryptöm ten years album including tracks from the most respected artists around (Laurent Garnier, Innigo Kennedy, Electric Rescue, Zadig etc.) and you've been part of it too, congrats! Can you tell us more about your relationship with this label? Can we say Skryptom is your new home production-wise?
Thanks! J
Actually, Antoine (Electric Rescue) is one of the first guys who believed in our work, already when we were The Welderz. He has been helping us since the very beginning. It took several years for our music to match with his expectations for Skryptom but even though we were not officially signed on the label since a long time, it's been a while since we are part of the "Skryptom family". I think there is no track from us that has not been listened to by Antoine. He helped us a lot to improve ourselves and to make better artistic choices. We have a real friendship relation with the Skryptom's artists, this label is a real family and we are really happy to develop our project with them.
What kind of non electronic music do you listen to usually?
 Jeremy: Old school Hip Hop, Jazz, movie music, but also rock, French variety… I really enjoy music in general.
Cyril: I still listen a lot of Metal, and old school Hip Hop too.
What was your most stressful experience on stage?
 Jeremy: Recently we performed a liveact in a huge Warehouse for our friends from Alternative Project. We were absolutely not ready. Few hours before the gig we were still refining the live in the studio. We had a lot of technical problems during the sound checking, I even thought we will never be able to perform that night. But finally, regardless of tiny failures here and there and an out of order synthesizer, it was a pretty nice live! You can check it on Electronic Feeling youtube channel:
I am a very nervous person but I'm working on it hahaha. Cyril is generally more relaxed, so I kinda feel the stress for both of us. I should learn more from him!
What can we expect from you later on this year?
 A second EP on Skryptom due on September, then the album and a new live act for the end of the year. And we still have our residency for Newtrack who is preparing great events for the coming months!
Thank you Paradox 🙂